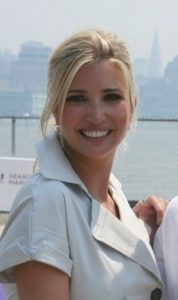 It's not often that the subject of the National Library Week inspires such social media uproar. But, take a look at what Ivanka Trump posted, and you'll be sure to see why it caused such a viral outburst. Yes, for some, she posted what could have been considered an innocent, even inspiring, post about libraries:
This #NationalLibraryWeek, we honor our libraries and librarians for opening our eyes to the world of knowledge, learning and reading!

— Ivanka Trump (@IvankaTrump) April 14, 2017
Yet, it's not such a simple statement, after all.
Why?
No Guarantee: While you've got to cherish libraries and all they represent, there's no guarantee that they will continue to exist.
Out of Time: Some would simply say that they're an ugly eyesore that have outlived their usefulness and purpose, while others insist that all the information in the libraries are now easily accessible online (and for free).
Money Pit: Critics also claim that the millions spent on public libraries every year could be better invested in job-training, and/or supporting the already-frail budgets of schools and other education programs.
Why Not?
The real question, though, is what would we lose if we did not have a library. Communities are already feeling the pinch, and many are already being forced to close (or reduce hours and resources) for their local library. Further defunding just makes those valiant efforts to save the existing libraries even more challenging. What anti-library critics don't seem to realize is that libraries hold a significance far beyond any monetary value.
Achievement: To produce highly successful adults, you must support their learning and development. As every entrepreneur knows, reading is a huge part of what has ensured their success.
Affects Community: Closing libraries affects us all. They are important community institutions: a center-point for community activities, as well as a place that's fun for learning and growing.
Priceless: You can't just look at the bottom line. Instead of looking at just what it costs, look a the even more-monumental price would be, if there were no libraries.
We've loved every moment in those book-laden walls. And, that's why the very-real prospect of libraries being defunded is such a scary thing. It's coming. We can't pretend that it's not a horrible probability. As EveryLibrary tweets:
@IvankaTrump Defunding libraries as proposed in your dad's budget hurts hardworking Americans pic.twitter.com/DHQ0i9IezF

— EveryLibrary (@EveryLibrary) April 14, 2017
You can't really compare this tweet to one about her silvery evening attire, which was compared with the warming blankets of Syrian refugees.
In the end, perhaps we will begin to understand the enduring power of words and images. Though we're inundated with a profusion of every possible form of media through the day, words still mean something! So, do books and libraries…