Books have always been an important part of my life, so for the 31 days of October, I'll be writing about some of the most memorable books I've encountered in my life. These are those works that stick in my memory, and they won't ever really go away…
And, as a special gift, I'm also offering a series of bookmarks related to my favorite books.
Today, we start with Charlotte's Web, by E.B. White. 
Why? Well…
It's about Wilbur. As we read in the book, all Wilbur wants is love. He was coddled, and taken care of from just after he was born. He just wants that again, and he wants to feel safe (I think it's a common wish). But, he also finds that he has friends–those people who are willing to do anything to help him. They save him…
And, then, there's Charlotte. She's a writer, and the smartest spider you'll ever have the pleasure to read about anywhere. More than just a spider, she's also a great friend to Wilbur. She expresses her genius via her web, captures everyone's attention, and saves his life. What always has made me love her is her simple, calming words (she listens to his worry, and she sets out to fix it for him–like a mother would).
Change is inevitable. It can't go on like it did–forever. That's a blessing and a curse. Life is made up of all those highs-and-low, the moments that we are so happy and feel so well-loved, but also those times of despair, when the world appears to be falling apart around us. Just wait. It's the certainty in life that nothing will last as it is forever.
As I watch my son read Charlotte's Web, I remember sobbing through that one section of the novel. Perhaps, you were right there with me. Despite the fact that so many years have passed since the first time I read the book, I still enjoy the rediscovery, talking with my kids about the book, exploring their perceptions, and feeling a little sad when my oldest tells me, "I watched the movie… I already know what happens."
To download the FREE Charlotte's Web bookmarks, fill out the fields and then select "Download Now" below: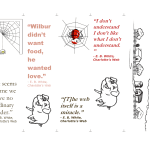 [wp_eStore_free_download_squeeze_form id=1]